Outline 概要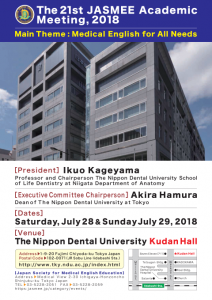 The twenty-first JASMEE Academic Meeting will be held on July 28 & 29, 2018 at The Nippon Dental University School of Life Dentistry at Tokyo.
Chair: Ikuo Kageyama (The Nippon Dental University School of Life Dentistry at Niigata)
※Details will be announced as soon as fixed.
メインテーマ
Medical English for All Needs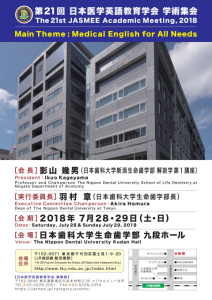 会長:影山幾男(日本歯科大学新潟生命歯学部)
準備委員長:羽村 章(日本大学生命歯学部)
会期:2018年7月28・29日(土・日)
会場:日本歯科大学生命歯学部(九段ホール)
住所:102-0071 東京都千代田区富士見1-9-20
(http://www.tky.ndu.ac.jp/index.html)
※詳細が決まり次第,順次ご案内いたします。
口述演題募集のご案内
下記の分野について口述演題を募集いたします。(口述演題募集が終了いたしました。)
医学英語教育の目標・教育方法・評価
学生評価
語学教育と専門教育の統合
実践力教育
グローバル人材育成
医学・看護学・医療系分野における専門英語教育
英語教員による医学英語教育
医学・看護学・医療系教育者による医学英語教育
医学英語教育におけるシミュレーション教育・ICT活用
教員教育能力開発
医学論文執筆指導・校閲・編集
医学論文作成における倫理
国際学会でのスライド作成と発表法
USMLE受験指導
医療通訳
医学英語検定試験
その他の医学英語教育に関連する演題
*演題受付は,原則としてオンライン登録経由のみとなります。
演題のご応募は下記のフォームより受け付けています。
*筆頭演者は本学会会員に限ります。非会員の方は演題提出前に必ず本学会に入会してください。
口述演題応募〆切日:2018年3月31日(土)午後5時
Call for papers
Proposals for papers on the following subjects should be submitted by 5:00 pm of Saturday, March 31, 2018. (Paper submissions are now closed.)
goals, methods, and assessment of medical English education
student evaluation
integration of language education and specialized education
global human resource development
English education in nursing and other healthcare-related fields
ICT/simulation education for EMP
faculty development
teaching of medical writing
medical English editing
how to make slides and give presentations at international meetings
USMLE preparation
medical interpretation
EPEMP, etc.